Social Distancing Floor Stickers Ireland
*HSE / Government of Ireland state that Social distancing is important to help slow the spread of coronavirus. It does this by minimising contact between potentially infected individuals and healthy individuals.
You should:
keep a space of 2 metres (6.5 feet) between you and other people
avoid communal sleeping areas
avoid any crowded places
not shake hands or make close contact with other people, if possible
There is very little risk if you are just passing someone. But try to keep a distance of 2 metres as much as possible.
For essential businesses such as supermarkets, pharmacies, post offices, banks, butchers, pharma plants and medical centres it is very important to try and encourage physical / social distancing to protect staff members and customers.
It is important to do so to help flatten the curve so that our hospitals and hospital workers are not overwhelmed and can treat ill people to the best of their ability. It is essential to have controls in place to make sure people adhere to social distancing. One of the best controls to implement is social distancing floor stickers.
Ordering Social Distancing Floor Stickers
If you have a business that still has workers onsite and have members of the public queuing in your business then it is your responsibility to implement social distancing. Social distancing floor stickers are a brilliant way to do this.
They are a gentle remainder to customers as to where to stand when shopping in your store.
HSE Government of Ireland Social Distancing Floor Stickers are our most popular floor stickers. We also offer bespoke options to include your company's logo and branding.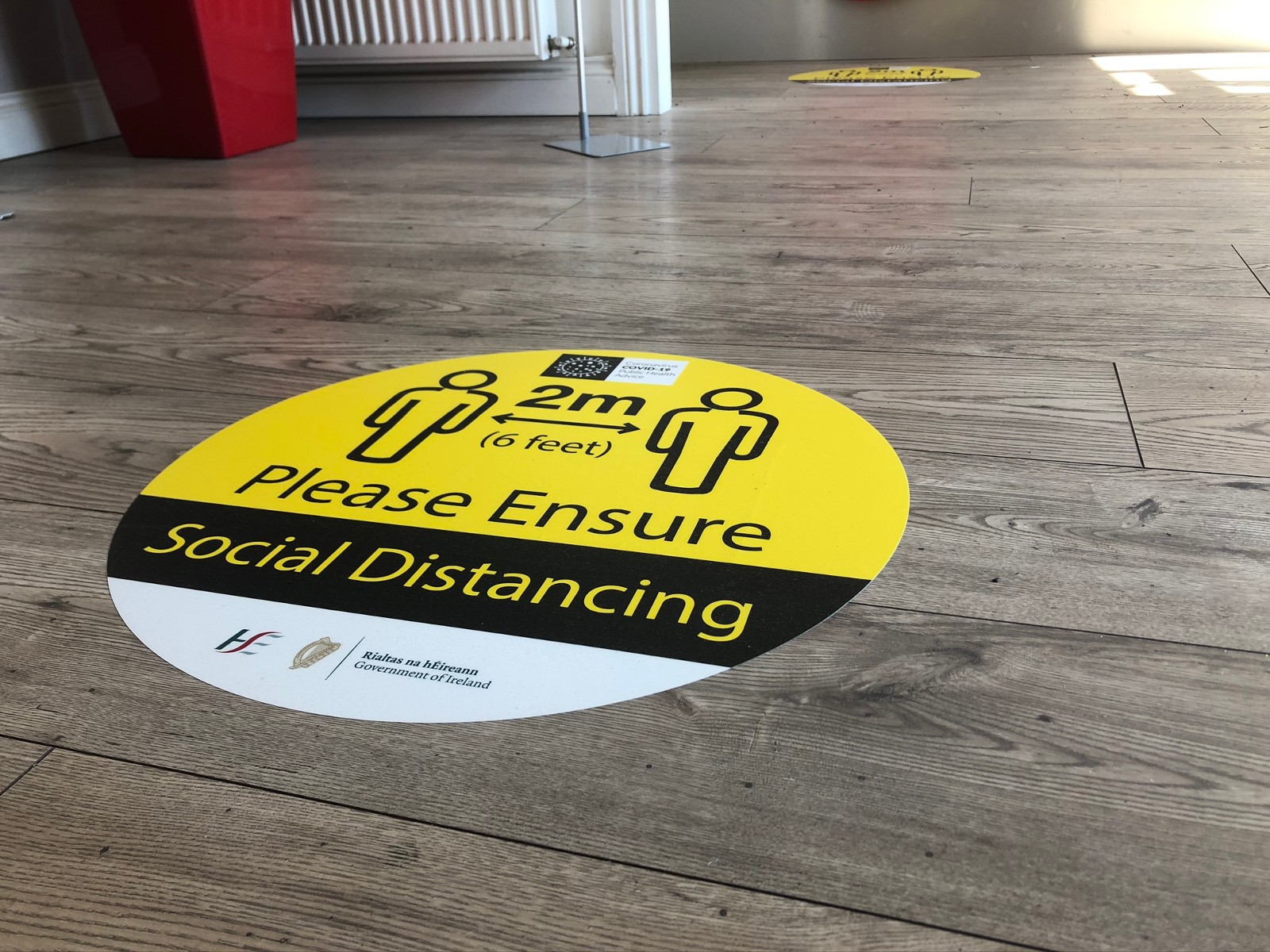 Benefits of Social Distancing Floor Stickers
Makes customers feel more comfortable: If customers have a positive experience in your store they are more than likely going to come back to shop in the future. They will also be avoiding stores that do not have social distancing measures in place.
Ease worry and tensions: No doubt people are worried when out shopping. Having such a simple measure in place like floor stickers will keep customers calm and will help them queue and shop in a safe manner and ease any tensions.
Ensure customers are following social distancing protocol: Having social distancing floor measures gives customers a friendly reminder to adhere to social distancing thus benefits the public as a whole and can potentially save lives.
Where to Use Social Distancing Floor Stickers
On the ground for queues: Of course, the obvious choice is to place the stickers on the ground for when people are queuing when going to pay for their goods. By fitting the stickers 2 metres apart from each other can ensure everyone is a safe distance from one another. To learn how to fit social distancing floor stickers click here.
In front of reception areas or tills: To protect your workers these stickers would be best placed in front of reception desks and tills to ensure customers are not too close to the person helping them. Sneeze guards would also be beneficial to have in place here too.
Get Your Social Distancing Floor Stickers Today
There is no question that if everyone can work together and follow social distancing it will benefit everyone as a whole.
Social distancing floor stickers are one of the many ways you can ensure social distancing is being followed. For outdoor areas like parks and car parks social distancing stencils might be a good way to implement social distancing. Of course other measures such as washing your hands frequently and using hand sanitiser should also be done.
To place an order or to contact us simply call us on +353 21 4311607 or email sales@pdsigns.ie. By working together we can prevent the spread of COVID-19.